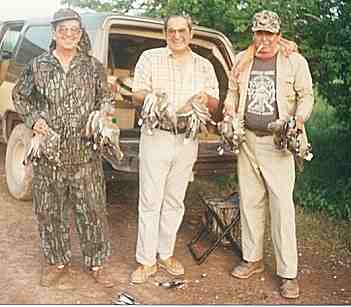 Who we are
Aviles Brothers is a family owned bussiness with three generations of experience.
They not only have been arranging hunts but they themselves love hunting and fishing. It all started when they were just kids and their father, C. Roberto Avilés, took them out hunting deer, jaguar, ducks and doves. Since then they developed alove for the sport and a knowledge of the field and game.
About four decades ago. Roberto and Carlos Avilés joined forces to provide thier friends with hunting expeditions, later joined by Gilberto in the fishing department. Within years they became well known thruout the whole state and specialy in the city of Mazatlán.  Originally there were duck, dove, quail, goose and jaguar expeditions, but regulations and conservational laws have prohibited jaguar hunts.
Roberto Avilés, the  older  brother and owner is in charge of managment, promotion, permits   and  business  operations.  He  also  owns  an   air  charter business which provides air  transportation  to  government  officers,  locals  and tourists to just about everywhere within México.
Gilberto Avilés, the middle brother handles everything   related to fishing;  from arranging the boat to getting the fishing permits and picking up customers at the hotel.
Carlos Avilés, the youngest brother, has been hunting his whole life and acts as a professional guide.
Roberto Aviles Jr., son of Roberto is now taking part in the operation, so future generations will still enjoy hunting with us.
Aviles Brothers is a founding member of the Sinaloa State Association of Hunting Outfitters and Guides, which was  the  first  association  of this type in México.
They are also members of the Mexican Shooting Federation.
Mazatlán
We are based in the city of Mazatlán, in the state of Sinaloa, México also called
"The Golden Coast of the Mexican Pacific".
Each year Sinaloa becomes the shelter of millions of birds that fly thousands of miles to meet in this beautiful landscape and mate. Over 5 million ducks, migratory and resident, meet here.
Mazatlán also know as a resort city with warm people, excellent hotels and restaurants, beautiful weather, history, art, aquariums, water parks and exceptional deep sea and bass fishing along with beautiful and exotic landscapes enhanced by extraordinary sunsets.
This makes MAZATLAN an excellent destination not only for the avid hunter and fishermen, but for the whole family.  Mazatlán is  at  23  degrees  15 minutes  31  seconds North  by  106  degrees  26  minutes  43  seconds  West, just one  degree  north  of  the  latitude of Kauai. It is almost exactly even with the tip of the Baja Peninsula, which is the easy way to find it.
What we offer
Aviles Brothers has two basic types of trips available. These are the day trip and an all inclusive package trip. The hunting grounds are about 50 miles south of Mazatlán.
Day Trip.- This is available for hunters that want to stay in the city of Mazatlan, either because they want or because they have family staying in town with them or on a business trip.
All inclusive packages.- these packages include almost everything. except shells, drinks at the hotels and tips.  Both packages have three days of hunting and one free day for relaxation. In package number one we include one fishing day.
We can also customize the package to meet your special needs of hunting, hotel, fishing, etc. Any special situation can be arranged.
For information on permits please check the Mexican Law page.